I've just heard that Buddy Collette has passed.
Buddy was my friend. My last words to him were "I love you." And his to me were "I love you, too."
It was just a random meeting at Ralph's market across the street from where I'm sitting right now, at the Farmers Market. I was in the produce section, squeezing oranges and this handsome elder gentleman came over to me and said, I bet you're a musician. I was in my early 20s, with a little buzz around me, ready to take the rock 'n' roll world on, so I was a little used to this sort of thing happening. But this man had spark in his eyes. We spoke for a few minutes. I felt very encouraged by him. It felt sweet to be recognized by an elder. I imagined myself in his place someday, encouraging another kid. I wanted to be part of the tradition. I'd always felt such a gratitude when older black men, who'd had to struggle so much, stopped to give me encouragement — a post civil-rights kid, half white and quite privileged. It made me feel a little guilty. Yet it inspired me to be part of the tradition of giving back, of encouraging young people to be the best they could possibly be, and to affirm that you, as an elder, recognize the value in their expression.
After the man moved on, a younger white couple approached me and asked if I knew who he was.
"He said his name was Buddy," I said.
"That's Buddy Collette! He's a jazz legend! You're a very lucky guy."
A few weeks later I was in the Bob's Big Boy near my apartment on Wilshire Blvd, and there was Buddy at the counter. We said hello again and a friendship was born.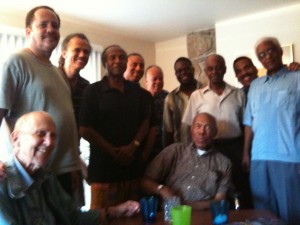 We never got to play together, but over the years I'd go to see him play or tell stories of the old days on Central Avenue, stories of him and young Mingus breaking bottles and stuff to give to Simon Rodia for the Watts Towers that were being built, or how he convinced Charles to give up the cello for the bass, and join his band. They'd jump on the red line and play in the train cars for fun. I loved hearing how he got the unions together, first through jam sessions and musical exchanges with the white classical musicians of Local 47, then the true amalgamation of the Unions. It's amazing how different the world seems now. It's hard to imagine my friend, in my city, not being able to join a group with other musicians simply because of his skin color. But that's what Buddy and this community of artists had to deal with and, mischievously at times, navigate.
Then later, after his stroke, Buddy started to show up at my events a little more. It thrilled me when he came to the opening of a film I scored, or when I'd hear him talk up my talents and versatility to other people. When he came to see me at Kenny Burrell's birthday performance at Royce Hall, he told me I had what Nat Cole had with my ability to sing. I should take that to heart more than I have.
One of my favorite conversations with Buddy was at a memorial for a dear friend of ours, Geri Branton. He told me that he was playing piano with his right hand. He was so excited by the voicings he was discovering. He had the passion of student just getting the concepts that would open the entire world to him.
That delight in discovery along with his deep memory was what made Buddy so special. His stories and music were so good because he was always attentive and curious. My sister and I took him to dinner one night at Versailles' Cuban restaurant after seeing a play by Roger Smith about Watts. Again, he had a pouring out of memories and a delight in going to theater and us hanging out together. He just brought so much joy to my life! And he reminded me that there were always new discoveries to be had in our city and in our lives.
I'm also remembering the time sitting with him and Brock Peters at Geri and Leo's 50th Anniversary party. Seeing these two men meet for the first time showed me the humbleness and excitement the greats have. They were passionate about each other's talents and the growing each of them was still doing.
That spirit endures beyond the body, the spirit of affirmation, encouragement, aspiration and the desire to connect with other beings. Buddy connected me to the past, present and a vision of a beautiful future of respect, love and possibilities.